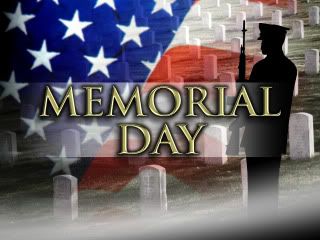 For those of us in the States, it's a day off of work, a day to get together with friends and family to have some fun and laughs over a BBQ or at the beach, to go to the mall to hit up the Memorial Day sales, to take in a movie or just to chill out and relax... all good things, of course.
But it's also a day to remember... a day to remember the men and women who have given everything in defense of this country and in defense of everything that we, as Americans, hold dear. From the Revolution to Afghanistan, truly heroic men and women have fought and died to protect our freedoms and our way of life.
So while we're doing our thing today, be it hitting the beach, throwing some ribs on the BBQ or just chillin' out with a loved one and a movie, don't forget to take a moment out to think about and thank those who have fallen in defense of this nation.
On this Memorial Day, my heart and thoughts go out to the families of those who have paid the ultimate price on behalf of us all.